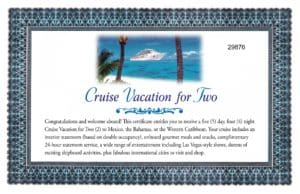 The Cruise Vacation for Two Certificate offers you the opportunity to give your clients a 5 Day/4 Night Luxury Cruise Vacation for Two, to Mexico, the Bahamas, or the Western Caribbean, when they do business with you!
*Cruise certificate description does not reflect the full terms and conditions listed on each certificate. Please ask your AIM representative for more info and refer to the actual certificate for full details.
Each Cruise Vacation for Two offers:
A Fabulous Cruise Experience
Travel Aboard a Floating Resort & Casino
Luxury Super-Liner Cruise Ship
Over 175 Different Cruise Dates
Choose from Exciting Ports & Itineraries
Pampered Service
Spectacular Entertainment
Amazing Vacation Value
Fun Filled Days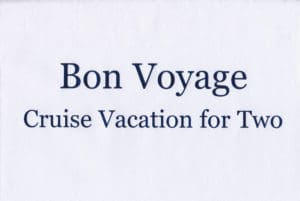 Every cruise certificate comes in a Bon Voyage blue foil envelope. It communicates your giving a quality gift certificate to a valued client!